ServNet Announces 2018 Scholarship Recipients
ServNet has announced the 2018 recipients of the group's scholarship program during its Spring Owners' Meeting, held early in May. Now in its third year, the scholarship program was established in 2016 as an ongoing initiative to help ServNet auction employees and their families pursue the dream of higher education.
"We were pleased to expand the scholarship program this year, adding an additional award for $2,500 for a student attending a four-year college," said Kevin Brown, ServNet's president. "We awarded a total of $19,000 this year and are very happy to announce the names of eight ServNet scholarship recipients."
Fortunate Son Coming to DAA Northwest
DAA Northwest's revelation that John Fogerty will headline the auction's 2018 Rock & Roll Sale brought shouts and smiles to dealers' faces on March 22nd. The announcement was made during DAA After Dark, the auction's March promotional event sale.
As the lead singer and lead guitarist of Creedence Clearwater Revival, Fogerty's prolific songwriting helped pen some of the most memorable songs in rock and roll, including Proud Mary, Bad Moon Rising and Fortunate Son. His solo career skyrocketed in the 1980s with his chart-topping single Centerfield.
Fogerty was featured on Rolling Stone Magazine's List of 100 Greatest Guitarists and Top 100 Singers of all time. He has been inducted into both the Rock and Roll Hall of Fame and the Songwriter's Hall of Fame. He was drafted in 1966 and is a proud Vietnam-era veteran of the Army Reserve.
"John Fogerty has been at the top of our Rock & Roll Sale wish list since the beginning. Booking him for this year's event is literally a bucket list milestone for us," says Bob McConkey, president of the McConkey Auction Group.
John Fogerty will headline DAA Northwest's 2018 Rock & Roll Sale in July.
Fogerty will take the stage Wednesday evening, July 18th following DAA's 9:00am national account auction. The Rock & Roll Sale will continue Thursday, July 19th and will conclude with over $50,000 in post-sale prizes.
Together with KCI Kansas City and DAA Seattle, DAA Northwest is a wholesale auto and specialty auction offering cars, trucks, RVs, and motor sports units to licensed, registered dealers. Members of the McConkey Auction Group and ServNet, the auctions are powered by Auction Edge. For more information, visit McConkeyAuctions.com.
Big and Rich will Appear at KCI Kansas City
KCI Kansas City took a different approach with this year's Guitars & Cars announcement. Prior to the auction's Fish Fry Promotional Sale on May 9th, KCI's sales and marketing team replicated Big & Rich's Save a Horse video. Teammates entered the auction arena in a 1974 white Cadillac Eldorado handing out $100 bills while Save a Horse blared in the auction arena. Dealers, filled with anticipation for the announcement, clapped and shouted with excitement.
"We are excited to announce that Big and Rich will headline this year's Guitars & Cars event," said Doug Doll, managing partner of KCI Kansas City. "Big and Rich are America's Technicolor cowboys, brothers-in-arms in service to the creed that great music has no boundaries. Individually, John and Big Kenny are first-rate musicians, songwriters, producers, and entertainers. Together, they are one of the most truly original musical forces ever unleashed."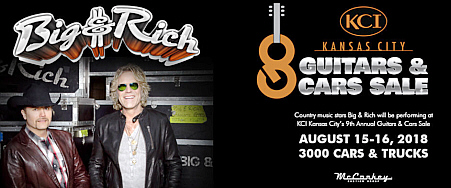 "We have had our eye on Big and Rich for a few years and this year was the right time to book them," Doll continued. "Customers were excited when we made the announcement and everyone is anticipating their performance because they are known for their 'over the top' live shows.".
The 2018 Guitars and Cars event is set for August 15th and 16th. Big and Rich will perform following KCI's Wednesday corporate sale. The action continues Thursday morning with thousands of cars, exciting in-lane promotions and $20,000 in post-sale prizes.
Together with DAA Northwest and DAA Seattle, KCI Kansas City is a wholesale auto and specialty auction offering cars, trucks, RVs, and motor sports units to licensed, registered dealers. Members of the McConkey Auction Group and ServNet, the auctions are powered by Auction Edge. For more information, visit McConkeyAuctions.com.
Louisiana's 1st Choice A/A Doubles Down on CAR Certifications
Louisiana's 1st Choice Auto Auction is proud to announce that Jacob Warren, General Sales and Marketing Manager, is now CAR certified by IARA. International Automotive Remarketers Alliance (IARA) has created an education program over the last ten years to expand overall knowledge of the remarketing industry. A Certified Automotive Remarketer (CAR) is trained in all aspects of automotive remarketing includingRemarketing Channels, Pre-Sale Activities, Actual Sale Activities, Post-Sale Activities, Legal/Ethics, and Terminology.
Warren explains: "CAR certification is valuable in our industry. Having the certification added to the Auction Academy curriculum was a huge opportunity that I am thankful to have had." Warren will graduate from Auction Academy in March of 2019.
Warren has been a member of the 1st Choice team for fourteen years, working in almost every department with roles including Vehicle Registration Specialist, Sales Representative, Marketing Manager, Business Operations Manager, and now General Sales and Marketing Manager.
Applauding Warren on earning this mark of distinction, the auction's Managing Partner John Poteet notes that Louisiana's 1st Choice Auto Auction now has two CAR-certified employees. "Congratulations to Jacob on becoming CAR certified by IARA," said Poteet. "Jacob joins Mike McCollum, our Fleet Lease Manager, as CAR certified making us one of the few auctions with more than one employee with this important designation. CAR certification shows our commitment to employee education and the highest level of service to our valued institutional accounts."
Independently owned and operated, Louisiana's 1st Choice Auto Auction is located in Hammond, Louisiana. Led by managing partner, John Poteet, the team of auction professionals serves the entire Gulf Coast Region and a national online buying base. Dealers gather every Tuesday at 8:45am in six lanes and online to bid on a consignment of over 700 vehicles, including vehicles from ARI, Consumer Portfolio Services, United Auto Credit Corporation, PAR North America, Hancock Bank, Crescent Bank, First Investors Financial Services, Prestige Financial, AVIS Budget Group, and a wide variety of dealer trades. Auction inventory is included on Edge Pipeline, where customers may view detailed condition reports, market report information and participate in online sales. 1st Choice is also an OVE Signature Auto Auction with a dedicated E-commerce sales team.
Louisiana's 1st Choice Auto Auction is a member of the National Auto Auction Association, Independent Auction Group, and ServNet. The auction is represented by TPC Management.
Akron Auto Auction Joins MS Movement
In April, customers and employees at Akron Auto Auction (AAA) joined together to help raise funds for multiple sclerosis research and treatment. The charity event was highlighted by the AAA MS Awareness Cookout, which served up dozens of hotdogs and burgers to hungry dealers on sale day. Dealers were also able to make individual contributions by opting to donate a set dollar amount per vehicle bought or sold during the sale. Everyone who donated received a green and orange paper foot that read, I Joined the Movement. These feet were displayed on the wall in the Registration Department for all to view.
Fundraising efforts were continued on the following Saturday when a large group of Akron Auto Auction employees, friends and family members met to participate in an MS Walk event hosted by a local high school. The AAA MS Walk Team, called The Short Stack, walked the two-mile track with other teams from the area with the ultimate goal in mind: to bring together a community of passionate people to connect and raise funds to change the world for everyone affected by multiple sclerosis.
Akron Auto Auction's Multiple Sclerosis Fundraiser generated a total of $2,163 that will go to drive MS research, provide life-changing programs and guarantee a supportive community for those who need it most..
Akron Auto Auction employees, friends and family members participated in an MS Walk as part of the auction's Multiple Sclerosis Fundraiser in April.
Akron Auto Auction is a member of the ServNet Auction Group and has played an important role in the market for seventy years, incorporating service, commitment and innovation to produce superior results for its customers. The auction includes six auction lanes, and four separate buildings on 30 acres. The facility has a full transportation department, reconditioning department, inspection department and floor planning services.
Each Tuesday, an average of 1,200 vehicles cross the block, including consignments from banks, fleet/lease companies and GSA, as well as vehicles from new and used car dealers from all over the Midwest.